Household & Small Business Recycling:
RecycleWise Guarantees the Best Prices and Service.
Se Habla Espanol
Households, small business recyclers and material collectors are very welcome at RecycleWise. The RecycleWise facility and helpful staff provide quick, easy, in-and-out service and top market prices for paper, cardboard, copper, brass, aluminum, plastic and other accepted recyclable materials. RecycleWise is a State certified California Recycling Center.
There is no reason to go anywhere besides RecycleWise. Check out our recycling coupon specials and promotions here.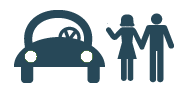 The new indoor drive-through in Perris (the largest in California) is conveniently located near the Interstate 215 and Ramona Expressways, and has separate bays for our community recyclers. Friendly RecycleWise staffers will unload and weigh materials then pay consumers, small businesses and material collectors in cash for CRV or "scrap" value.
Recycling Tips for Consumers and Small Businesses
Households, Offices and Small Business—Don't place empty beverage containers into home or office co-mingled recycle bins. Besides California Redemption Value (CRV) beverage containers, many other plastic containers and household/business items going into home and office co-mingled recycle bins are worth money at RecycleWise. Save beverage containers and other recyclable materials such as detergent containers, milk cartons, copper wire, brass, cardboard, paper, old copper tubing, old aluminum wheels and more to redeem for cash at RecycleWise.
Recycling beverage containers for redemption and scrap value is well worth it and many customers focus only on these materials. That is often where the highest material values lie with California's incentive to recycle. The scrap value of a can or PET water bottle is a small fraction of a penny. The California Redemption Value is 5 cents. This incentive means if the purchaser does not recycle the container for the CRV, another person or company will. It helps insure most containers will be recycled and most are recycled. In California, the beverage container recycling rate is very high and continues to grow. At present, an average of 85% of CRV beverage containers are recycled. Most of this is done through co-mingled home and office recycle bins and the waste hauler gets a CRV windfall.
It is said everything counts in large amounts and even non-CRV recyclable materials "scrap" value can add up to significant cash pretty fast. It's good to learn all the materials RecycleWise buys and to set these in a separate recycling bin, buckets or in plastic bags. Fold and stack cardboard and be sure to bring it in before it gets too heavy.
Construction & Trade Crafts—RecycleWise accepts many types of non-hazardous materials from construction, repair and remodeling projects. It's profitable to learn which materials RecycleWise buys. Then bring materials to RecycleWise and we will provide immediate payment with contractor license number.
Professional Material Collectors—There's no need to drive far to drive a great bargain. RecyleWise is very near and always pays collectors the highest prices. RecycleWise respects material collectors, recognizes these individuals as "professionals" and provides special bays and dedicated staff to meet their specific needs.